To Hell with a Rosary and a Prayer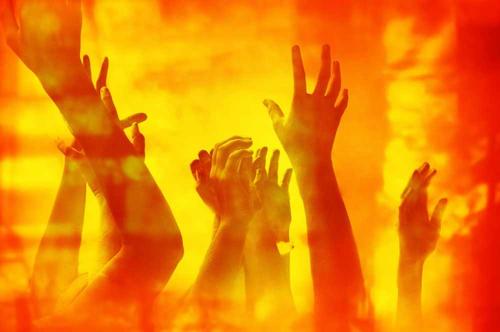 ---
Are You going to Hell With a Rosary and a Prayer in Your Hand?
II Peter 1:10: "Wherefore, brethren, labour the more, that by good works you may make sure your calling and election. For doing these things, you shall not sin at any time."
Are we trusting in our devotions to save us? Aren't we faithful to say the Rosary daily and to wear the Scapular? Don't we abstain from meat on Fridays and observe the fast of Lent, the Ember Days and Vigils? Aren't we faithful to attend Mass on the Lord's Day? What more is wanting?
"There are at this time, more than ever, false devotions to our Blessed Lady, which it is easy to mistake for true ones. The devil, like a false coiner and a subtle and experienced sharper, has already deceived and destroyed so many souls by a false devotion to the Blessed Virgin, that he makes a daily use of his diabolical experience to plunge many others by this same way into everlasting perdition; amusing them, lulling them to sleep in sin, under the pretext of some prayers badly said, or of some outward practices which he inspires. As a false coiner does not ordinarily counterfeit any thing but gold and silver, or very rarely the other metals, because they are not worth the trouble, so the evil spirit does not for the most part counterfeit the other devotions, but only those to Jesus and Mary, the devotion to Holy Communion, and to Our Lady, because they are, among other devotions, what gold and silver are amongst metals." (Saint Louis de Montfort, True Devotion to Mary)
Let us return to Saint Peter: "For doing these things, you shall not sin at any time." Devotions are almost worthless, as long as we remain Godless. The most they can do is earn us the grace of conversion.
"There will come three days of continuous darkness. The blessed candle of wax alone will give light during the horrid darkness. One candle will last for three days, but in the houses of the Godless they will not give light." 1 What distinguishes the Godless from the Godly? We need to be Godly or we will not be saved. We need to make sure of our election, which requires us to "go now and sin no more." (John 5:14; 8:11)
"The Lord knoweth how to deliver the godly from temptation, but to reserve the unjust unto the day of judgment to be tormented." (II Peter 2:9)
Saint Peter is contrasting the Godly with the unjust or Godless. Therefore to be Godly we must be just. Do we know what it is to be just? Saint Thomas Aquinas says: "Rendering to each one his right," since, as Isidore says (Etym. x), "a man is said to be just because he respects the rights of others." (II-II Q58 A1) And so justice is to render to all what is due to them.
Job 12:4: "He that is mocked by his friends as I, shall call upon God and he will hear him: for the simplicity of the just man is laughed to scorn."
II Timothy 3:4: "And all that will live godly in Christ Jesus, shall suffer persecution."
The world laughs at and persecutes the just.Now there are many worldly, who claim to be Christian but do lie. 2 It is one thing to make a claim and quite another to live the Christian way of life, which is essential to the just man. And when we live by the maxims of the Gospel, many will laugh at us, especially lax Christians, who are Christians in name only.
Romans 1:17: "For the justice of God is revealed therein, from faith unto faith, as it is written: The just man liveth by faith."
Galatians 3:11: "But that in the law no man is justified with God, it is manifest: because the just man liveth by faith."
To be Just, we must live the Faith as we have been discussing. In order to live the Christian way of life we must learn it thoroughly and keep it always in our mind and before our eyes, that is through reading it daily.
"Hear, O Israel, the Lord our God is one Lord. Thou shalt love the Lord thy God with thy whole heart, and with thy whole soul, and with thy whole strength. And these words which I command thee this day, shall be in thy heart: And thou shalt tell them to thy children, and thou shalt meditate upon them sitting in thy house, and walking on thy journey, sleeping and rising. And thou shalt bind them as a sign on thy hand, and they shall be and shall move between thy eyes. And thou shalt write them in the entry, and on the doors of thy house." (Deuteronomy 6:4-9)
Baruch 6:72: "Better, therefore, is the just man that hath no idols: for he shall be far from reproach."
We must not follow false gods, whether idols or the idols of modern paganism.
How many worship before some sort of screen hours on end, whether it be TV, computer, tablet or telephone? One network asked for eight hours a day, and there are some who spend that much time, a third of their life with these modern idols. Like all things, they are useful tools, but when they take that must of our time, is there any time left for the important things of life?
Proverbs 12:21: "Whatsoever shall befall the just man. it shall not make him sad: but the wicked shall be filled with mischief."
How do we react, when things go wrong? We need to take a very close look at our selves.
Job 1:21: "And said: Naked came I out of my mother's womb, and naked shall I return thither: the Lord gave, and the Lord hath taken away: as it hath pleased the Lord so is it done: blessed be the name of the Lord."
Do we realize that evils that happen to us come from the hands of the good God, Who sends them for our instruction and trial? If we cannot pray from our heart in this manner with Job, then we have work to do.
Luke 22:42: "Saying: Father, if thou wilt, remove this chalice from me: but yet not my will, but thine be done."
When we pray the Our Father we must really mean what we say. And let us consider that we pray: "Thy will be done."
Proverbs 24:16: "For a just man shall fall seven times and shall rise again: but the wicked shall fall down into evil."
Let us take heart that we shall not always succeed, but we must rise again every time we fall and work to reduce the size and number of our falls. Justice and mortal sin are enemies.
Proverbs 29:27: "The just abhor the wicked man: and the wicked loathe them that are in the right way. The son that keepeth the word, shall be free from destruction."
We must hate evil, which is why we remove it from our lives.
We must live totally for God, which leaves no room for sin in our lives. Habitual sin is the worst, because it has become part of a nature, which is why we must convert. Conversion is a complete change of customs and morals.
Romans 12:2: "And be not conformed to this world; but be reformed in the newness of your mind, that you may prove what is the good, and the acceptable, and the perfect will of God."
Ecclesiastes 7:21: "For there is no just man upon earth, that doth good, and sinneth not."
Indeed this can be said of today. And we must change this by becoming just ourselves and encouraging others to become just. And we must preach more by our example than we do by our words.
When we preach by the way we live, then our words have power when we finally do speak.
Ezechiel (Ezeckiel) 3:20: "Moreover if the just man shall turn away from his justice, and shall commit iniquity: I will lay a stumblingblock before him, he shall die, because thou hast not given him warning: he shall die in his sin, and his justices which he hath done, shall not be remembered: but I will require his blood at thy hand."
Many fall into the trap of believing that we climb out of the depths of sin and finally into the clear air and level off in the spiritual life. This is a dangerous trap. When we fall into it, we find we are losing altitude and sinking back towards the earth. No, the spiritual life is a climb to the Heavens. We must literally reach for the stars.
James 5:16: "Confess therefore your sins one to another: and pray one for another, that you may be saved. For the continual prayer of a just man availeth much."
Saint Thomas Aquinas says:
"I answer that, Just as Baptism is a necessary sacrament, so is Penance. And Baptism, through being a necessary sacrament has a twofold minister: one whose duty it is to baptize, in virtue of his office, viz. the priest, and another, to whom the conferring of Baptism is committed, in a case of necessity. In like manner the minister of Penance, to whom, in virtue of his office, confession should be made, is a priest; but in a case of necessity even a layman may take the place of a priest, and hear a person's confession." (Supplement Q8 A2) He goes on to explain that by confessing to a layman, when a priest is not available we do our part, the balance being impossible. True, this does not justify us sufficiently to receive Holy Communion, but if we are sincere, it is sufficient to save our souls. Of course, we must have the desire to confess to a duly authorized priest at the first opportunity.
Let us close by recalling the story of the Pharisee and the Publican. (Luke 18:10-14) The modern day Pharisee will say: "I observe all of the fast and abstinence laws of the Church; I attend Mass on Sundays; I say my daily Rosary without fail and I wear the Scapular."
"And the publican, standing afar off, would not so much as lift up his eyes towards heaven; but struck his breast, saying: O God, be merciful to me a sinner. I say to you, this man went down into his house justified rather than the other: because every one that exalteth himself, shall be humbled: and he that humbleth himself, shall be exalted." (Luke 10:13-14)
We must be like the Publican and acknowledge and repent of our sin, so that like him, we can be justified.
O God, be merciful to me, the sinner,
+Michael pp
1 Marie Julie Jahenny of La Fraudais (1891)
2 "Behold, I will bring of the synagogue of Satan, who say they are Jews, and are not, but do lie. Behold, I will make them to come and adore before thy feet. And they shall know that I have loved thee." Apocalypse 3:9 Indeed this warning is given to the Church of Philadelphia, which begins after the Three Days of Darkness.