February 2018 - Fasting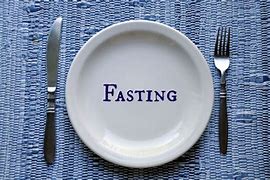 ---
February 14, 2018 is Ash Wednesday, the beginning of Lent.
Lent is a spiritual Spring cleaning. It is a time to check up on how well we are performing our duties. To do this, we should make a list of our duties and examine our conscience on how well we are performing them. From this we make resolutions to fulfill our duties better. We then choose those mortifications that are necessary to fulfill these resolutions.
This brings us to the main point of mortification. The purpose of mortification is to remove all obstacles to prayer and fulfilling our duties. And so our mortifications should be chosen with these two goals in mind.
Let us cite some examples. In order to spend more quality time with his wife and children a man might resolve to give up television after dinner, as well as not surfing the net, etc. In order to spend more time at prayer, people might give up the same things before going to work in the morning, spending time with God rather than with acquiring useless information from the television or internet. And yes, much of what is broadcast is basically about useless to helping us save our souls and perform our duties.
"Penance for the Christian is not satisfied by withdrawing from sin, by detesting a past life badly lived, or by the sacramental confession of these same sins. Rather, penance also demands that we satisfy divine justice with fasting, almsgiving, prayer and other works of the spiritual life." (Pope Clement XIII, Appente Sacro)
There are seven kinds of penance outlined here:
The first penance is necessary, withdrawing from sin. Sin is the only real evil in the world. It is absolutely necessary to remove all mortal sin. We should also remove all deliberate sins from our life, because the only thing deliberate venial sin lacks that mortal sin has is seriousness of matter. We should never deliberately will to sin, no matter how trivial the matter may seem. Deliberately sinning is also deliberately turning away from God.
Secondly we have all lived our lives badly. Two practices will help us see this. The first is to take a week and track how we use our time. How many of us spend a whole day, 24 hours, in front of some sort of screen. And how little time do we spend in prayer? The other is tracking how we spend our money for a month. Oh, how we pamper ourselves. Buying a special coffee daily costs over a hundred dollars a month. Couldn't that money be spent more wisely? How much do we spend on ourselves and how little do we give to Almighty God and His work? How we spend our time and money shows what we truly hold to be important.
Thirdly Pope Clement includes Sacramental Penance as a penance we all need to do. We need to come clean before God and the priest He has sent to us through His Church and 'get real'. We need to admit that we are our a sinner and admit what are sins actually are.
We must satisfy Divine Justice by fasting. And this must go beyond the minimums required by Ecclesiastical Law.
See Fasting Brochure
We shall consider this more deeply in a moment.
Fifth we consider almsgiving, which is more than checkbook charity. It includes all of the spiritual and corporal works of mercy. The Catechism tells us: "The chief spiritual works of mercy are seven: To admonish the sinner, to instruct the ignorant, to counsel the doubtful, to comfort the sorrowful, to bear wrongs patiently, to forgive all injuries, and to pray for the living and the dead. … The chief corporal works of mercy are seven: To feed the hungry, to give drink to the thirsty, to clothe the naked, to ransom the captive, to harbor the harborless, to visit the sick, and to bury the dead." Let us remember that almsgiving comes after we have tithed to the Church, which is an obligation binding under pain of sin.
Sixthly we need to pray. It is interesting that this Pope enumerated prayer as a penance. Prayer takes us away from something else, because it takes time to make serious prayer. Lent is a good time to set aside an hour a day for prayer, and to take a moment to recollect our self at other times, rather than distract ourselves.
And finally we need to perform the other works of the spiritual life, which include spiritual reading, reading the lives of the saints, pilgrimages, etc. Like prayer, these also take time and take us away from our own pleasures and thus are a necessary mortification and penance.
The World Takes No Heed of Lent
These words come from the public admonitions of the Blessed Virgin Mary at Lourdes. And how much more so is this today? When Mary appeared at LaSalette, Friday and Saturday were days of complete abstinence. And the Lenten fast was stricter. Now we are permitted a full meal with meat, except on Fridays and Ash Wednesdays, when meat is forbidden. We are permitted a small repast in the morning and evening in order to maintain strength, which must be meatless. We are allowed to exchange the noon meal with the evening repast, thus eating our main meal in the evening and taking a small repast around noon time. The two repasts, when added together should not equal a full meal.
The big problem of today is gluttony and the Fathers of the Church tell us we must overcome gluttony before we can overcome lust and the other vices. If you have a problem with vice, consider its may be growing out of gluttony, which may be feeding it.
Saint Paul said: "For many walk, of whom I have told you often (and now tell you weeping), that they are enemies of the cross of Christ; Whose end is destruction; whose God is their belly; and whose glory is in their shame; who mind earthly things." (Philippians 3:18-19)
Is our belly our god? Do we live to eat or do we eat to live?
We should eat in order to live, not live in order to gratify our self in eating.
There are four ways of being gluttonous:
Eating when there is no need, eating between meals, and for no other reason than that of indulging our greed.

Seeking delicacies or daintily prepared meats, the more to enjoy their relish.

Eating with avidity, with greed, after the manner of certain animals.

Going beyond their appetite or need, gorging oneself with food or drink with danger to health.
Let us consider these four ways:
We eat in order to maintain our strength and to live. Eating for pleasure alone has been condemned as sinful by the Church. How often should we eat? Saint Thomas Aquinas asks if three in the afternoon is the appropriate time for the faster's only meal. Because of our weakness the Church has allowed food to be consumed twice more. Let us go to a catechism published a century ago, which describes fasting as: "In taking only one meal a day, to which a refection and a collation may be added." The main meal had been moved to noon, but it is permitted to move it to the evening and move the collation back to noon time. The refection is a light breakfast to maintain strength. And the catechism says: "The collation is a slight refreshment which we are permitted to take towards evening, amount to about one fourth of an ordinary meal." The current law is easier than this. We should live in the spirit of fasting, enduring some discomfort as long as it is not injurious to our health.
We eat very fancy foods, when we should eat plainer foods, especially on fast days. Let us consider the delicacies that we take for granted that were not available a few decades ago. There is no problem in enjoying the food we eat to maintain our health.
Today many have a bad habit of eating rapidly, when we should sit down at the table and eat slowly and moderately. We recall training a child, who had the habit of eating too fast. We made him set his fork down between bites to teach him to slow down.
Saint Alphonsus says: "It is also a sin willfully to produce any serious illness, by eating to excess, or by eating food injurious to health; for we are bound to preserve our life, and to avoid all danger of death." And Saint John Vianney, holy Cure of Ars said. said: "intemperance and dabauchery are the support of doctors." How many of us have health problems caused by what we eat or at least made worse by it. Let your food be your medicine. We should choose foods that will strengthen our body, not weaken it.
Today many things are sold to us as 'food', which are actually dangerous and may even be destroying our body and mind. Do a little research. When we eat a proper diet, we will find that it takes less to support our life.
Let us resolve to make this the best Lent in our lives. Let us ask God to give us the grace to place Him first and foremost in our life. Let us then work with the grace He sends us to change our lives for the better.
Pope Michael