Pope Speaks: October 2017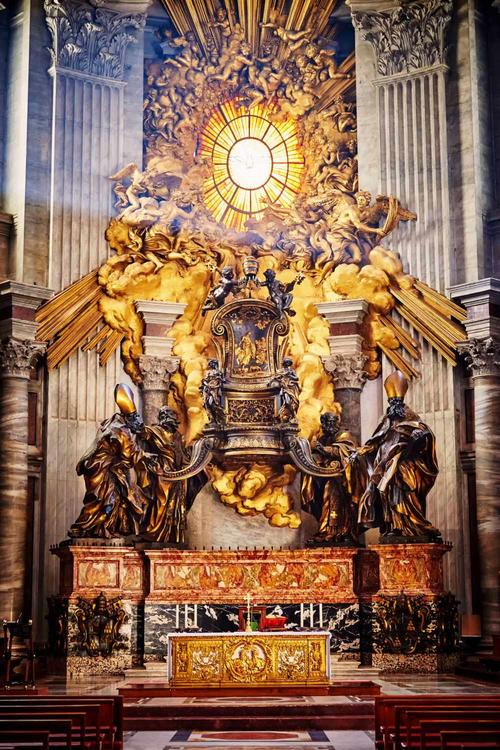 ---
The Three Saint Teresas
There are three Carmelite Saints named Teresa. Most are familiar with Saint Teresa of Avila and Saint Therese (Teresa) of Lisieux. There is a third Saint Teresa, Saint Teresa Margaret of the Sacred Heart. There is much we can learn from these three saints.
Let us begin with Saint Therese of Lisieux, who is famous for her little way. At her First Communion Saint Therese resolved: "I will never allow myself to become discouraged." Discouragement can destroy the spiritual life as it leads to depression and despair. Let us consider, that God has everything under control and He knows what He is doing. "For my thoughts are not your thoughts: nor your ways my ways, saith the Lord." (Isaias 55:8) Yes, God does not do things the way they think they should be done, but let us not be discouraged. If He does not open a door, we don't really want what is behind that door.
Saint Therese looked for an elevator to ride up to heaven, because she did not believe herself big enough to climb the rough road some saints have climbed. She searched the Scriptures for this elevator, which she found.
Before we can use her elevator, we must arrive at the place where she was, when she began this search. "At that hour the disciples came to Jesus, saying: Who thinkest thou is the greater in the kingdom of heaven? And Jesus calling unto him a little child, set him in the midst of them, And said: Amen I say to you, unless you be converted, and become as little children, you shall not enter into the kingdom of heaven. Whosoever therefore shall humble himself as this little child, he is the greater in the kingdom of heaven." (Matthew 18:1-4) Saint Therese was already a little child before Jesus. We must convert and become as trusting as she was before we can find the elevator.
Conversion means a complete change of customs and habits from the worldly customs and habits we follow now.
Saint Therese had not adopted them much in the first place, although she too had her conversion. Saint Therese writes of this: "In an instant Our Lord, satisfied with my good will, accomplished the work I had not been able to do during all these years. Like the Apostle I could say: "Master, we have labored all night, and have taken nothing." (Luke 5:5)." Notice that this conversion was worked by Jesus in her heart. Let us ask Him to also come with the Holy Ghost into our own hearts.
"Awake, O sword, against my shepherd, and against the man that cleaveth to me, saith the Lord of hosts: strike the shepherd, and the sheep shall be scattered: and I will turn my hand to the little ones." (Zacharias 13:7) Children are little ones and we must become little ourselves in order to become saints. We must realize that of ourselves we are nothing, that all of the good in us comes as a gift of God to be used in His service. In fact, legally children own nothing. As little children, we must realize that we don't truly own anything, but are simply a steward of the things God has placed before us to use in fulfilling His holy will.
Now we are ready to look for the elevator. Saint Therese writes: "Instead of being discouraged, I concluded that God would not inspire desires which could not be realized, and that I may aspire to sanctity in spite of my littleness. For me to become great is impossible, I must bear with myself and my many imperfections; but I will seek out a means of getting to Heaven by a little way—very short and very straight, a little way that is wholly new. We live in an age of inventions; nowadays the rich need not trouble to climb the stairs, they have elevators instead. Well, I mean to try and find a elevator by which I may be raised unto God, for I am too tiny to climb the steep stairway of perfection. I have sought to find in Holy Scripture some suggestion as to what elevator elevator might be, which I so much desired, and I read these words uttered by the Eternal Wisdom Itself: "Whosoever is a little one, let him come to Me." (Proverbs 9:4). Then I drew near to God, feeling sure that I had discovered what I sought; but wishing to know further what He would do to the little one, I continued my search and this is what I found: "You shall be carried at the breasts and upon the knees; as one whom the mother caresses, so will I comfort you." (cf. Isaiah 66:12-13)."
As little children we come to Jesus and ask His blessing. "Then were little children presented to him, that he should impose hands upon them and pray. And the disciples rebuked them. But Jesus said to them: Suffer the little children, and forbid them not to come to me: for the kingdom of heaven is for such. And when he had imposed hands upon them, he departed from thence." (Matthew 19:13-15) And Jesus will take us unto Himself and comfort us.
Saint Therese also resolved: "Not a word, not a look, if not to give pleasure to the good God." Consider what a wonderful life this is.
Let us now go to Saint Teresa Margaret of the Sacred Heart. She was born in 1747 and died on March 7, 1770. Three words from the little chapter at the Office of Terce on Sundays after Epiphany and Pentecost struck her one day: "God is love." ("Deus caritas est.") Indeed God is love and we should also be love to Him and to our neighbor.
After she read the biography of Saint Margaret Mary she took resolved: "Suffer and be silent for Jesus, return Him love for Love." There is much wisdom in these words.
We will suffer no matter what. How we react to suffering determines its value to us for eternity.
Saint Teresa Margaret said: "She who is silent everywhere finds peace." Silence is so important to the spiritual life. We need to find a place of silence to retire to for prayer and time with God.
Let us consider one last thing from Saint Teresa Margaret: "She who does not know how to conform her will to that of others will never be perfect. Our model is Jesus, Whose meat was to do the will of His Father, Who was submissive to death, even the death of the cross. And I have resolved to resemble Him in all things." Our meat also is to do the will of the Father.
And lastly let us come to Saint Teresa of Avila, who the above two saints were named after as their patron. Saint Teresa of Avila said: "St. Teresa said: It would be silliness to imagine that God admits to His friendship persons who seek their own ease and convenience. Souls that truly love God cannot ask for comforts." And yet we often ask for comforts instead of taking up our cross.
Many of us don't really know Saint Teresa as we ought. She had many extraordinary spiritual graces, which are not a necessary part of spiritual advancement and are not to be desired. So let us get past these and look at a few points in her life and sayings that apply to us all.
Jesus came to Saint Teresa in a locution, which is a voice that is heard internally, and asked her to leave off her visit at the grate and come to pray. She ignored His request for years. It should be noted that in meditation during this time she had to use a book to support her thoughts. She did not really advance until she heeded the request of Jesus. True, she was faithful to the practice of virtues and observance to the rule, but failed in this one request from Jesus for quite a while. In fact, she was shown the place reserved for her in hell, if she fell. And let us learn from this that none of us are secure.
There is no place you can reach and be safe. We must always allow God to work more and more in our hearts.
Saint Teresa said: "Whenever our Lord commanded me anything in prayer, and my Confessor ordered the contrary, Jesus returned to tell me that I was to obey my Director. But His Divine Majesty afterwards changed the heart of my Confessor, so that he came at length to prescribe to me that which the Lord required." God works through the authorities He has placed over us and will not go against their commands. It is this obedience that He requires of us. Saint Gregory the Great says: "Obedience is rightly placed before all other sacrifices, for in offering a victim as sacrifice, one offers a life that is not one's own; but when one obeys one is immolating one's own will."
Let us conclude by considering some of Saint Teresa of Avila's maxims:
"Do not reflect on other people's faults, but on their virtues and your own defects."
"Be most careful to keep your morning meditation before your mind through the day, for it is most helpful."
"Detach your heart from all things; seek God, and you will find Him."
"Do nothing that the whole world might not see."
"Do not evince curiosity by talking or asking questions about matters which do not concern you."
"Accustom yourself to make frequent acts of love, which inflame and melt the soul."
"Be indulgent to others, rigorous to yourself."
"Be very careful about your nightly examination of conscience."
"When sad or troubled do not omit your accustomed prayers or penances, which the devil is then striving to make you leave off. Pray and mortify yourself more than usual and you will find that God will soon come to your aid."
Let us conclude by considering the Carmelites, since by wearing the brown scapular we should have their spirit.
The first thing is to accustom our self to mortify our will in all things, however trifling, and to yield willingly our own rights in order to convenience others, pleasantly agreeing with their opinions treating all with a genuine kindness, thus making a continual and entire sacrifice of self to God. It is time we stopped thinking about our rights, but about doing good.
Saint Therese of Lisieux, the Patroness of the Missions said: "A Carmelite who was not an apostle would be unworthy to call her a daughter of the seraphic St. Teresa (of Avila), who would have given a thousand lives to save a single soul." Yes, we must be on fire with the love of God and desire what He desires: "Who will have all men to be saved, and to come to the knowledge of the truth." (I Timothy 4:2)
The Carmelite Rule says: "Each one shall have a separate cell … (and) shall remain in his cell or near it, meditating day and night on the law of the Lord, and watching in prayer, unless otherwise justly employed." Yes, we should be away from the distractions of the world in our own homes, unless called to duty elsewhere.
As Carmelites in the brown scapular let us also live a life of prayer as Scripture advises: "Pray without ceasing." (I Thessalonians 5:17)
And so let us learn from the three Saint Teresas to live the Carmelite way of life.