Fathers Must Lean On God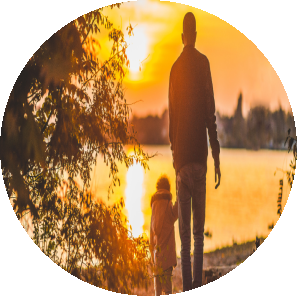 True, our first reaction to all the responsibility of being a father is to feel overwhelmed. How many times have you disappointed your children already? We ask, "how can any mortal man be man enough not only to have children but to raise them right? The fact is, no mortal man can. No one is wise enough and strong enough to raise children, either single-handedly or with the help of other humans.
But there is hope! We do not need to raise our children by ourselves. God does not expect us to. He knew our inability for the task long before we did. He wants to guide and hip us. Better yet, regardless of how earnest we are about being faithful fathers, God is even more eager to see us succeed than we are able to be!
Psalms 127 begins with this great truth: "except the Lord build the house, they labour in vain that build it: except the Lord keep the city, the watchman waketh but in vain. It is vain for you to rise up early to sit up late, to eat the bread of sorrows: for so he giveth his beloved sleep" (vs1-2)
Anyone who is not a Christian should fear to be a father. He can early and late and still fail. But anyone who lets the Lord build his house can trust Him for help and so find rest in the midst of this great work.
The third verse of this psalm adds more to how and why God wants to be involved. "Lo, children are an heritage of the Lord." Children are not only from the Lord; they are "of the Lord," which indicates that they still belong too God. "Behold all souls are mine: as the soul of the father, so also the soul of the son is mine:" (Ezekiel 18:4) We do not own our children; we are only stewards , managers of God's property-the souls of our children. Certainly this means we are accountable to Him, but it means more. It means that god will supply whatever we need to take care of His children that He entrusted to us. How comforting that we can count on Him to help us! It is up to us to lean on Him.