Pressing Toward The Mark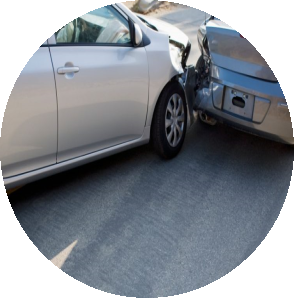 Certain studies of U.S. highways have shown an astonishingly high incidence of drivers colliding with cars parked legally on the side of the road. Most of these drivers were not under the influence of alcohol or medication, and most of the collisions occurred during favorable weather conditions.
Then what is the reason behind the sheer number of accidents? As safety experts studied the statistics, they came up with a fascinating explanation: Just as a moth is drawn unconsciously to a flame, a driver tends to involuntarily steer his car to where his eyes are focused. Thus, if his vision locks onto a vehicle parked by the side of the road rather than focusing on the road in front of him, he is in danger of colliding with the car.
As Christians, we all face distractions and hardships. Our enemy knows our weaknesses, and he tries his best to steer our attention to right or to the left in order to get us out of the race. When things get difficult and we see what looks like an easier path, we are tempted to give in and follow it.
But as we strain our eyes forward, looking down the track to the finish line, we can see someone familiar: it is Jesus! He has finished His race, and He is waiting for us there. Suddenly we realize that if He has already completed the race, so can we. As we focus our eyes on Him, all the other sounds and sights that distract us from our task fade away. We forget about our weariness as we run steadily toward the finish line, our eyes fixed on Jesus alone.
But it is a daily, hourly, minute-by-minute choice we must make to keep looking forward, refusing to look around. We can be sure that there will be difficulties and distractions. We will find ourselves in the midst of struggles and messes. We will stumble and fall sometimes and will have to repent of our sins. But we can be sure that Jesus will always be there, waiting for us at the finish line.
Though Paul told the Philippians he hadn't "arrived" spiritually, he also said, "But one thing I do: forgetting the things that are behind, and stretching forth myself to those that are before, I press towards the mark, to the prize of the supernal vocation of God in Christ Jesus." (Philippians 3:13–14). This is the secret to staying in the race, no matter how difficult it is.
Jesus endured the cross, the pain, the agony, the shame, and the suffering "for the joy that was set before him" (Hebrews 12:2). He looked beyond the cross, and He saw the joy that was waiting. This is what enabled Him to endure the horrible suffering and death He experienced for us.
Wherever we are at in our journey, I pray that the enemy will not steal away our affection from the One who paid with His blood to redeem us. I pray that we will not walk away from Him. I pray that we will be willing to pay the price in order to follow Jesus.
This world is still full of multiplied millions of people who are without hope, suffering and totally unaware of God's love for them. While we are here on earth, can we act as Christ's hands to touch them, and care for them? Can we walk away from the easier paths that seem to pull at our attention and instead follow in the Lord's footsteps, ministering hope to these precious people?
God will give us the grace to live this life as He calls us to. In the light of eternity, the race that we're running is really not that long. I pray that we will be able look beyond the cross, beyond the pain and sacrifice, and see the joy that is waiting for us. The joy we experience when we gather around the throne, with all of eternity stretching out before us, will be far greater than any struggles along the way.
As we run this race, let us keep looking to Jesus and the joy that is set before us. Joy that is indescribably glorious. Joy that will make every ounce of suffering and endurance worth it all.