6 BASIC ASPECTS Of FORGIVNESS AND BEING WILLING TO FORGIVE.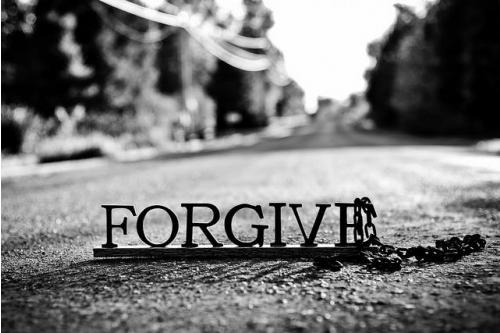 •
Being willing to Forgive deals with our emotional response toward an offender. Pardon deals with the consequences of his offense. Unless we have the authority we may not be able to pardon an offense, but we can always forgive .
•
Forgiving a person is "clearing his record" with us and transferring the responsibility for any punishment to God. Forgiveness will make it possible for us to have the same openness toward him after he offends us as we had before he offended us .
•
The following insights assist us in looking at forgiveness from God's point of view:
BEING WILLING TO FORGIVE INVOLVES A POSITIVE ATTITUDE TOWARD THE OFFENSE RATHER THAN A NEGATIVE ATTITUDE TOWARD THE OFFENDER

If our initial focus after being offended is on the offender, it is difficult not to become bitter. But if we first focus on the offense and forget for the moment who offended us, we are much better able to look at the offense as a significant aspect of our personal character development. Our proper attitudes as a result of the offense become the important concern. By using this approach, both the offender and the offense fade into insignificance and our response to the offense becomes the major concern.
2. BEING WILLING TO FORGIVE VIEWS THE OFFENDER AS AN "INSTRUMENT" IN GOD'S HAND

In the final analysis, it is God who uses even the "[wrathful] thoughts of man shall praise Thee." Psalm
76:10 King David could have become very bitter toward the vile, hateful person who tried to humiliate him by publicly accusing him and cursing him. Instead, he viewed him simply as an agent of a higher power. He said, "let him alone that he may curse as the Lord hath bidden him." II Samuel 16:11
Jesus Christ could have become bitter toward those who beat Him and nailed Him to the cross, but He looked at them as carrying out the purpose of God for His life.
3. BEING WILLING TO FORGIVE LOOKS AT THE WOUNDS OF THE OFFENSE AS GOD'S WAY OF DRAWING ATTENTION TO THE OFFENDER'S NEEDS
When the girl possessed of the devil continually disrupted Paul's meetings, he could have become bitter at her disturbances. Her offenses toward his ministry, however, caused him to become keenly aware of her spiritual needs and as a result he healed her. Acts 16: 16-18
4. BEING WILLING TO FORGIVE RECOGNIZES THAT BITTERNESS IS ASSUMING A RIGHT WE DON'T HAVE

Only God has the right to punish. "Vengeance is mine; I will repay, saith the Lord." Romans 12:19 A response of bitterness is an instinctive means of revenge toward the one who has offended us. Most of us are prone to use silence toward the offender as a means of punishing that person. (See also Romans 12:17-20)
5. BEING WILLING TO FORGIVE REALIZES THAT THE OFFENDER HAS ALREADY BEGUN RECEIVING THE CONSEQUENCES OF HIS OFFENSES

A person's happiness is dependent upon his harmony with God and others. An offense toward us simply indicates that he is violating one or more principles and these violations will have a deep effect upon his own happiness and success. If he has wronged us, we can be sure that he is insensitive toward others around him and will suffer from conflicts with them as well.
The reproofs of conscience, friends, circumstances, etc. are sufficient tools of God to emphasize to him his offenses. When he recognizes the seriousness of his offenses, he will not give us the privilege of helping him if we have not reflected a loving spirit toward him through our attitudes.
6. BEING WILLING TO FORGIVE INVOLVES COOPERATING WITH GOD IN THE OFFENDER'S LIFE

When someone intentionally offends us, we can be sure that he is going to be fully aware of our responses to him. In this case, we have a significant opportunity to demonstrate the potential forgiveness of God to him. As he sees our openness and love to him, he will be able to comprehend the same openness and love that God has toward him, in spite of his offenses toward God.
When someone unintentionally offends us, it indicates that the offender has personal deficiencies which he may not be aware of. In this case, our continued openness toward him may provide the opportunity to be of personal help to him in the areas revealed by his offenses.
The reward of meeting his needs will be a spirit of joy in us as we see him sharing with others the same attitudes he saw in us when we properly responded to his offenses .