May 2018- What Is Truth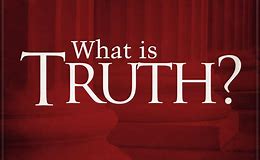 ---
Pilate therefore said to him: Art thou a king then? Jesus answered: Thou sayest that I am a king. For this was I born, and for this came I into the world; that I should give testimony to the truth. Every one that is of the truth, heareth my voice. Pilate saith to him: What is truth? And when he said this, he went out again to the Jews, and saith to them: I find no cause in him. (John 18:37-38)
Notice that Pilate asks: "What is truth?" but doesn't wait for an answer. Do we even ask what the truth is? The world has a false way of judging what the truth is. Instead of measuring something against what is, the world looks for support from others as a measure of truth. That Jesus is the Son of God was not a popular thing in Jerusalem on the first Good Friday, but it remained true. The majority was certainly wrong.
If we look at history, we will find that the majority is often wrong. Let us go back to the time of Noah. Millions, possibly billions of people were wrong, while Noah was right and God saved Noah and his family.
And all in Moses were baptized, in the cloud, and in the sea: and did all eat the same spiritual food, and all drank the same spiritual drink; (and they drank of the spiritual rock that followed them, and the rock was Christ.) But with most of them God was not well pleased: for they were overthrown in the desert. (I Corinthians 10:2-5)
In the desert, during the Exodus, if we read it well, many who came out of Egypt were sinners. In fact, only two men that came out of Egypt, entered the Promised Land, Josua and Caleb. Even Moses did not enter the Promised Land, because of a slight want of faith.
Jesus saith to him: I am the way, and the truth, and the life. No man cometh to the Father, but by me. (John 14:6)
God is Truth. Truth is simply that which is totally in accordance with the facts. It does not depend on the number of people, who believe it. Truth exists, even if everyone rejects it.
Then Jesus said to them: Amen, amen I say unto you: Except you eat the flesh of the Son of man, and drink his blood, you shall not have life in you. ... Many therefore of his disciples, hearing it, said: This saying is hard, and who can hear it? (John 6:54, 61)
Indeed the truth can be a hard saying, but we are obliged to accept it. The Scriptures also tell us: "After this many of his disciples went back; and walked no more with him." (John 6:67) This going back is interpreted as apostasy. Because these people refused to accept the truth, which came from Jesus' mouth, they fell away and lost their souls.
There are two possible reactions to the truth. We have seen the first, which is walking away from it and rejecting it. Let us see the other possible reaction: "Then Jesus said to the twelve: Will you also go away? And Simon Peter answered him: Lord, to whom shall we go? thou hast the words of eternal life." (John 6:68-69) We can accept the truth, even if we don't understand it. And this is called faith. We accept the truth, which comes ultimately from God on the basis of His authority. And that should be enough for us. We accept the truth, because it is true, and God will not deceive us. This is in essence the Act of Faith, where we accept the truths of the Faith on God's authority.
In the fourteenth chapter of Saint Matthew's Gospel we read about the beheading of Saint John the Baptist. Saint John the Baptist corrected Herod for his adulterous marriage. His wife wanted him dead and indeed this happened. Father Leonard Goffine in his work, Sunday Sermons From Father Leonard Goffine, notes that truth has an ugly daughter, hatred. If we refuse to accept the truth, we usually hate it. We usually are not indifferent to the truth.
And you shall know the truth, and the truth shall make you free. (John 8:32)
If we accept the truth, we are indeed free. However, if we reject the truth, we become slaves.
For this is good and acceptable in the sight of God our Saviour, Who will have all men to be saved, and to come to the knowledge of the truth. (I Timothy 2:3-4)
God wishes us to come to a knowledge and acceptance of the truth. He has gone to great efforts to bring us the truth through His Divine Son, Jesus Christ. Many martyrs have suffered and died in defense of the truth as did Saint John the Baptist. More recently Saint Thomas More suffered and died for the truth. Indeed, he said nothing until his trial, but his actions spoke volumes in resisting the machinations of the adulterer, Henry VIII.
Let us follow the example of the saints and live for the truth.
Truth Is One
In 2004 Pope Michael commenced a project to write a book. The result was an ebook, which was available for free download, Truth Is One. The quote comes from the Great Agnostic, Robert Ingersoll. Pope Michael's father would often remind him: "Truth is one, error is many."
This was originally written and published as an ebook in early 2005. One person wrote the original draft and three people edited it before final publication. The latter have asked not to be named to remain humble, although it was offered to them to include their names. This ebook was downloaded thousands of times with the request to make any necessary corrections. Over the years, two corrections were offered and made. Both were technical issues. One was a mistake in a footnote, the other a missing phrase from a prayer. No one has offered a substantial correction to this work. The only additions being made are this introduction, the complete article from Robert G. Ingersoll on the statement "Truth Is One, Error Is Many", and a conclusion at the end.
In 2016 Pope Michael brought it into print and also offers it in a Kindle edition. His contract with Amazon prevents him from offering it for free. We will offer this, as well as free Kindle editions of his two subsequent books, 54 Years That Changed the Catholic Church and Passion of the Mystical Body of Christ. Pope Michael is working on a new book to present the case for his election as Pope. We ask for your prayers for this project.
Pope Michael also published a work, I Believe in the Catholic Church, where he took an old four volume a catechism and took that chapter, updating it to include Church decrees after it was published. This work is taken from 'Exposition of Christian Doctrine' by a seminary professor. This was originally published in 1894 for the use of catechists.
Truth Is One https://amzn.to/2vxX2vQ
54 Years That Changed the Catholic Church https://amzn.to/2qPL4Ii
Passion of the Mystical Body of Christ https://amzn.to/2JaP51x